| | |
| --- | --- |
| There are many reasons to choose Cummins Marine Power - Like toughness and dependability, fuel efficiency and performance. Service, parts and technical assistance at ports of call around the world. | |
Cummins 4B3.3-M Marinized by Trans Atlantic Diesels

Trans Atlantic Diesels is proud to offer the "Newly Marinized Cummins
4B 3.3-M" Diesel Engine.

This rugged engine package is designed with the serious boater in mind. The max 65 hp is achieved at just 2600 RPM. At an amazingly low 1800 RPM this engine delivers almost 55 HP. Ideal for those long cruises.

Click here for more info about Trans Atlantic Diesel's Cummins 4B 3.3-M.

The low engine speed contributes to the high torque and durability of the engine.

Lower engine speed also equals lower fuel consumption, lower noise level, lower operating cost and longer life!

Accessory/Options for the Cummins 4B3.3-M
When placing your order for a new engine, please consider the following available options.

Balmar 6 Series 100 amp high output Alternator Kit with Smart regulator, harnessing and high temp alarms, comes mounted and connected to engine, ready to go.

Hot water heater inlet and exit points with compact shut off ball valves.

Stainless steel exhaust mixing elbow.

Double sheathe crankshaft pulley.

Dual Station instrument panels.

5' 10' 15' & 20' extension harnesses for gauge panel.

On Board Cruise Kit.
---
BEFORE CONTACTING US ABOUT ALL OTHER CUMMINS MARINE ENGINES PLEASE READ THE FOLLOWING:
WE CAN NOT SUPPLY/SHIP OUTSIDE THE STATE OF VIRGINIA

This restriction ONLY applies to New & Factory ReCon Cummins Marine Engine Packages.
This restriction does NOT apply to Cummins 4.B3.3M 65HP shown above.

Due to Cummins Engine Companyís policy, we are restricted to selling the following products to within a designated territory. Trans Atlantic Diesels territory includes the state of Virginia. For us to remain within these regulations, you and your vessel should reside in Virginia. If this is not the case, we suggest you contact your local distributor or dealer by going to www.cmdmarine.com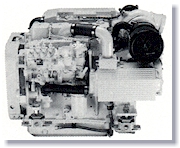 To preserve warranty coverage, It should be noted that each engine following installation should undergo a factory authorized installation review. Unless special arrangements are made, this is normally carried out by the selling dealer or their local distributor, within the selling dealerís or distributorís territory.

If you are outside of our Virginia territory: As a courtesy to our fellow dealers/suppliers, please do not contact us for pricing, availability or engine information.
There are no restrictions on Cummins parts and any other items listed on our web site.
We are also happy to offer a full range of marine transmissions for your replacement Cummins engine.